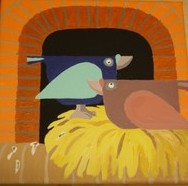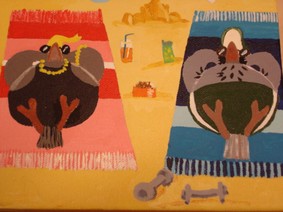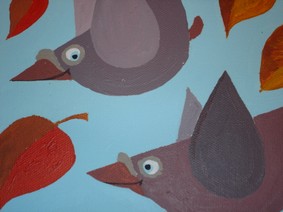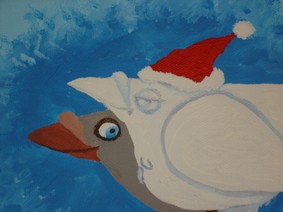 "4 seasons", 2010, acryl on canvas, 20 x 20 cm (private collection).
Welcome at the website of Dymphie van den Bergh,
for illustrations, paintings and design.
The work of Dymphie seems happy on the outside.
But it has not only to do with making one happy.
It is meant to think about things that appear normal, but which are not.
About thinking out of the box.
About looking around the corners.
About similarities between each other in stead of pointing out differences.
About taking oneself not too serious.

As a veterinarian she has seen many animals and many humans
in a lot of defferent situations and countries.
And it made her aware of all the above mentioned things.




Free work and assignments
She makes free work, but she is also good in assignments.
There is a thorough preperation before she will even start painting or drawing.
And almost everything is possible: drawings in ink, paintings, other techniques,
just what is necessary for a good result.
An example: She made an image for a wedding.
During the preliminary interview it became clear that the bride felt like a seagull,
tumbling, dancing and turning in the wind,
sensible for the slightest change in wind and fast in adapting to it.
The husband felt like an eagle, floating high upon the air,
overlooking the land and what happens there.
Together they felt like a team.

The design was used for several purposes such as invitations and church booklet.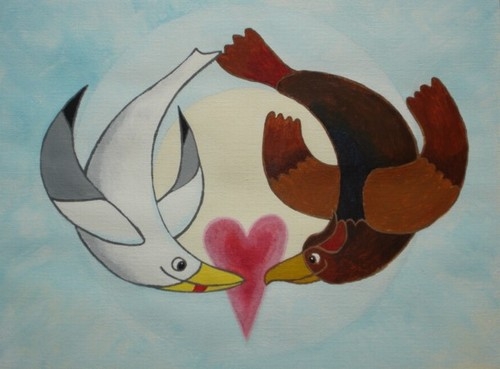 Funny portrait
Another type of assignment: funny portrait.
Very entertaining for strangers, but a serious matter for the person who is portraited.
For example interesting in waiting rooms at (veterinary) hospitals.
Until now people are portraited in the cow version, but every animal is possible.
Interested?
Look at the section ASSIGNMENTS for examples.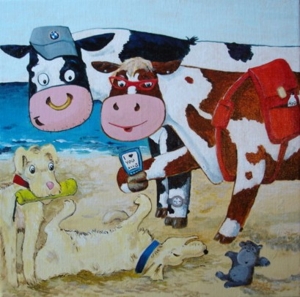 "Holidays on Ameland" (funny portrait)
acryl on canvas (private collection)
(C) Made on Ameland 2013
Expositions
Restaurant StrAnders, Strandweg in Buren, Ameland: permanent exposition. Paintings, inkdrawings.
Atelier: Duinzicht, Hoofdweg 3 in Buren.
2015: till April in "de Vermaning" Kirche in Nes
2014: Month of art Ameland (november) in Kamphuis Molenaar, Willibrordusstraat 7, Buren.
2013: Month of art (november)
2012: Month of art Ameland (november)
2012: Juttersmuseum Swartwoude, Buren, Ameland. Cowpaintings ans drawings.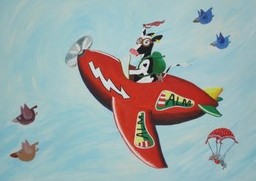 "exportcow"
acryl on canvas, 2009, 40 x 60 cm (private collection)
My story
"I graduated as a veterianarian in 1993 and through my work I landed on the beautiful island of Ameland, part of the Waddensea.
I married to a farmer there and together we managed the dairyfarm, a grouphostel and our family with two boys.
At the moment I am divorced and working as an veterinarian, therefore I don't have much time to draw anymore.
As a child I was already drawing, during my studies and later as a veterinarian too.
For example when I worked in Agricultural education in the Netherlands or as a veterinary volunteer in Bolivia.
There I taught about animal health and diseases and I illustrated educational books for farmers.
I learned what impact illustrations can have in the education of grown up people, because of the social meaning of drawings.
On Ameland I missed the travelling and the contacts as a veterinarian I had.
Therefore the drawing and painting became more important.
I could use my (veterinary) knowledge and experiences in the drawings.
And my fantasy, because Ameland is an very inspiring island!"